At the end of May, just before school was out, Amy Severino of
Amybeads
announced she was hosting the Summer Lovin' Summer Chanllenge. This was perfect timing for me because I was looking for a few projects for my summer free time.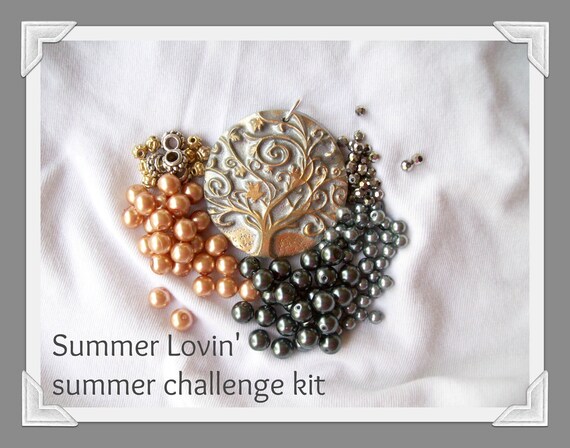 the start
As soon as I saw the Summer Lovin' Challenge Kit I knew I wanted to participate. I love the
Tree of Life
pendant from
Penny's Lane Polymer Clay
. I thought I was going to stitch little herringbone ropes with little fluted ends to hold pearls, but somewhere along the way I purchased some gold leather and Jamie Cloud Eakin's book
Beading with Cabochons
. So the piece became bead embroidery.
The pendant is just under 2.5"
the result
This is my first bead embroidery piece. I've played around with stitching on leather before, but never have I actually seem anything through from beginning to end. My edge stitching is a little wonky in a couple places, but I think that I'm getting a feel for how to better space beads so that I don't finish and need to leave a gap or squeeze a last bead into a space.
Take a look and see what the other participants made:
Lori B.
Lucy K. -------see Amy's blog